FireWire 6 pin to 6 pin Cables
---

Unibrain 6-pin to 6-pin FireWire Cable - 10m/32.8ft (1600)
Part Number: 1600
Connectors: 6-pin to 6-pin
Length: 10 meters = 32.8 feet

Unibrain FireWire 400 cables not only achieve a very controlled 110 Ohm impedance but also provide high performance for skew, attenuation and crosstalk. These latest features were not prerequisites when the first IEEE-1394/1395 specification was issued, at the time limiting the maximum cable length to 4.5 meters.
Therefore we can now secure safe operation of our Firewire cable lengths up to 10 meters!
---
---
---
---
---
---
---
---
---
---
FireWire 6 pin to 4 pin Cables
---
---
---
---
---

Newnex 6-pin to 4-pin + Power FireWire Cable (CFA-64P)

Newnex has the right cable to allow your original or new iPod to connect to a Windows/Mac notebook computer and get power at the same time! The 4 pin FireWire receptacle on most Windows/Mac notebooks does not transmit power. If you use your iPod with one it will drain the batteries and not let you recharge. With the Newnex CFA-64P cable you can get both data and power connection to your iPod.
Connectors: 6-pin to 4-pin and DC Power Receptacle
Length: 2 meter / 6.5 feet
Part Number: CFA-64P
---

Newnex 4-pin plug to 6-pin socket FireWire Cable - 6in (CFR-64R01-AV06)

FireWire IEEE 1394(a) 4-pin Male with right angle 01 to 6-pin Socket Panel Adapter. Fits a wide variety of Digital Cameras, Sony, Cannon, Panasonic, JVC and many more DV and still cameras. Allows for clearance on a tripod stand and provides strain relief on the cable.
Connectors: 4-pin Plug to 6-pin Socket
Length: 6 inch
Part Number: CFR-64R01-AV06
---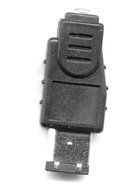 FireWire 6-pin Male to 4-pin Female Cable Adapter

Convert your 4-pin FireWire cable into a 6-pin male adapter. This allows you to remove unwanted noise from the switching power supply of your computer to your audio equipment for crisp pure sound. Connect your 4-pin FireWire camera or audio device to an existing 6-pin connection on your computer. No need for additional cards or drivers!
---
---
FireWire 4 pin to 4 pin Cables
---
---